150ml 5oz Body Massage Cream Tube Packaging With Massage Head Applicator

This empty massage roller ball tube is 150ml, material is high quality PE plastic;

capacity can be customized, with 5 stainless steel balls, can be used with different pump heads.

It is also Eletric Roller Tube,which you can use automatically , the eletric tubes which Helps the emulsion absorb better .

Suitable for cosmetic hose packaging, facial cleanser, massage cream, etc.

Application: shoulder neck, joint, back, leg massage, etc. Durable and wear-resistant.

Be use as a massage tube!
Tube Material: PE
Tube Length: Can be customized
Capacity: 150ml or custom
Color: Can be customized as your requirement
Decoration: Offset printing, Silk screen printing, Hot stamping, Labeling

Capacity

5oz ,or Custom

Diameter

D50 or Custom

Material

PE

Color

Custom

Printing

Silk Printing, Hot Stamping, offset printing ect

Tube size and printing can be customized

Why Choose Cosmetic Tubes?

1. It is insoluble in general solvents at room temperature, with small water absorption, excellent electrical insulation, corrosion resistance, excellent electrical insulation (especially high-frequency insulation), and can be chlorinated.
2. It has softness, elongation, good impact strength and permeability, and can maintain certain toughness at low temperature.
3. Because of its high strength, high temperature resistance, corrosion resistance, non-toxic and wear-resistant. The construction process is simple, and the main thing is not to use anti-corrosion treatment, which will save a lot of working procedures.
4. Compared with PP, PP becomes brittle, wear-resistant and aging at low temperature, and PP toughness is poor at low temperature

Tubes have proved their efficiency for a long use of biotech, pharmaceutical, personal care and cosmetic products. High protective EVOH barrier tubes and barrier poly-foil tubes can protect sensitive formulation against light, moisture and oxygen.

Our Advantage: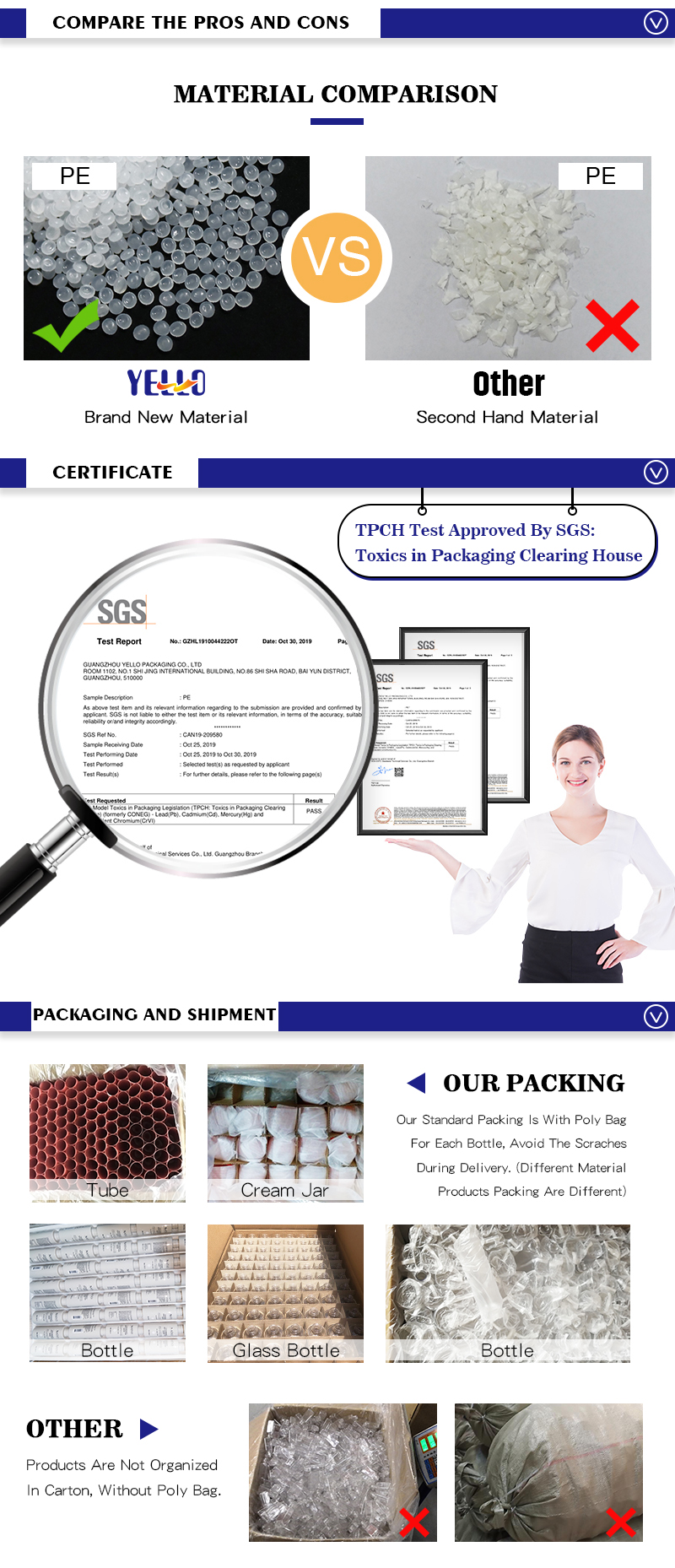 We Use Brand New Material
1. Brand new material is more stable, not easy to react with product inside.
2. Brand new material can produce very clear look products, without dirty marks.
3. The physical feature of brand new material is better, not easy got broken.